I. INTRODUCTION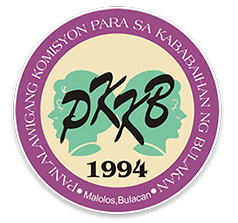 In order to address issues and concerns of women in the province, the Provincial Social Welfare and Development Office wrote a concept paper in August 1993 about a commission that would cater to women empowerment.
It was in January 17, 1994 when a committee studied the concept paper and presented it to selected women leaders from different sectors in February 8-9, 1994 to be re-examined. And in February 22, 1994 the creation of Panlalawigang Komisyon para sa Kababaihan ng Bulacan (PKKB) was launched through the Executive Order 94-02 in Hiyas ng Bulacan Convention Center, Lungsod ng Malolos, Bulacan and was institutionalized later through Provincial Board Resolution 2000-412.
Although PKKB is a government institution, it is manned by eleven (10) women leaders from different Women Non-Government Organizations making it a good model of GO-NGO partnership.
II. LEGAL BASIS
Executive Order 94-02
Instituting A Commission on Women in Bulacan February 22, 1994 Kapasiyahang Bilang 2000-412
Kapasiyahang Nagpapatibay na Maging Isang Ganap na Institusyon ang Panlalawigang Komisyon para sa Kababaihan ng Bulacan (PKKB) Setyembre 7, 2000 Executive Order 08-14
Adopting the Sangguniang Panlalawigan Resolution No. 200-412 and Renaming the Position of the Executive Director to Commissioner Emeritus of Panalawigang Komisyon para sa Kababaihan ng Bulacan (PKKB) April 2008 Executive Order 02-A, s.2011
An Order Designating an Additional member of the Board of Commissioners in the Panlalawigang Komisyon para sa Kababaihan ng Bulacan (PKKB)
III. COMMISSIONERS
Eva M. Fajardo
More Than Conqueror Fellowship Int'l., Inc. Chairperson (1997-present) City of Malolos, Bulacan Commissioner (1994-1997) Carmelita R. Cruz
PINITAK Foundation Commissioner (2008-present) Plaridel, Bulacan Exec. Director (2001-2008) Author of Commission (1994) Zenaida S. Mabagos
Rotary Club of Meycauayan Uptown Commissioner (1996-present) City of Meycauayan, Bulacan Adelaida P. San Juan
Marilao Retired Teachers Association Commissioner (1996-present) Inner Wheel Club of Marilao Marilao, Bulacan
Dra. Magdalena I. Gonzales
Phil. Medical Association & Bulacan Medical Society, Commissioner (2002-present) Soroptimist International of San Rafael San Rafael, Bulacan Elvira M. dela Rosa
Soroptimist International of Plaridel Commissioner (2004-present) Plaridel, Bulacan Felicitas V. de Guzman
Kababaihang Barangay ng San Miguel Commissioner (2007-present) San Miguel, Bulacan Purita R. Bunoy
Retired DTI Employee Commissioner (2011-present) Pulilan, Bulacan Rosalie V. Lava
Catholic Women's League Nuestra Senora dela Asuncion Commissioner (July 2016-present) Bulakan, Bulacan Rosario M. Pengson
Catholic Women's League Mojon Commissioner (July 2017-present)
IV. VISION
The PKKB envisions a province where women and men achieve their full potentials and participate meaningfully and equally in the development of Bulacan.
V. MISSION
To this end PKKB will serve as a vehicle between government agencies and other entities in mainstreaming of women in the pursuit of peace, equality and sustainable development.
VI. GOAL
Encourage active participation, involvement and commitment of women's group in all development programs.
VI. FUNCTIONS
Policy-Making Body
Formulate policies, set priorities and coordinate, with both public and private institution, the preparation of development plans for women.
Advise the Governor in formulating policies and plans for the integration and mobilization of women in development based on equality of protection and opportunity.
Advocacy
Encourage participation of all sectors, government and private, in all their efforts for the promotion and development of women.
Undertake continuing advocacy on women concerns through publications, media, networking and coordination.
Give recognition to outstanding women/women organizations as per Board Resolution No. 215.
Monitoring
Monitor compliance with laws and coordinate with government agencies in the implementation of laws and policies affecting women.
Networking
Provide leadership and direction in the integration of women as full and equal partners in development and nation building particularly giving emphasis to grassroots participation.
Provide support to Women NGOs through networking, technical assistance and fund intermediation.
Serve as a database and information center for women.
VIII. AWARDS AND ACHIEVEMENTS
First Provincial Commission on Women in the Philippines
Gawad Galing Pook Awardee as One of the Top Ten Outstanding LGU Programs in 2003
Special merit during the first contest of Gender-Responsive Local Government in Asia-Pacific/UN-HABITAT (Fukuoka, Japan)
Recognized as Gender and Development good practices in January 13, 2005 by the National
Commission on the Role of Filipino Women (NCRFW) and Canadian International Development Agency (CIDA)
Recognized as partner of Women In Nation-Building (WIN) in the conduct of outreach programs in the LGU in June 15, 2010
GAD Allocation is more than the 5% requirement based on DILG Memorandum 2001-01
First province to have organized the local council of women (LCW) in 21 towns and 3 cities of the province called the Konsehong Pambayan / Panlunsod para sa Kababaihan (KPK)
Recommended GAD Focal Point in all department of the Provincial Government through Memorandum No. PA-2002-126 dated September 2002
Recommended the creation of Committee on Decorum and Investigation (CODI) of the Provincial Government.
Recommended to have continuous parenting program in 2004 that gave birth to HOMES-ptca (Haliging Organisasyon ng mga Mag-aaral sa Elementarya at Sekondarya)
Recommended for the issuance of Memorandum Circular for Municipal Budget Officers to include 5% GAD Fund in their Annual Investment Plan (GO Memo 2006-217).
Advocated for the creation of the Gender and Development Code of the Bulacan that was passed as a Provincial Ordinance No. 2012-10 through Resolution No. 138-S'12.
Advocated for the creation of the Gender and Development Focal Point System in the Provincial Government of Bulacan that was made possible through Executive Order No. 16 series of 2014.